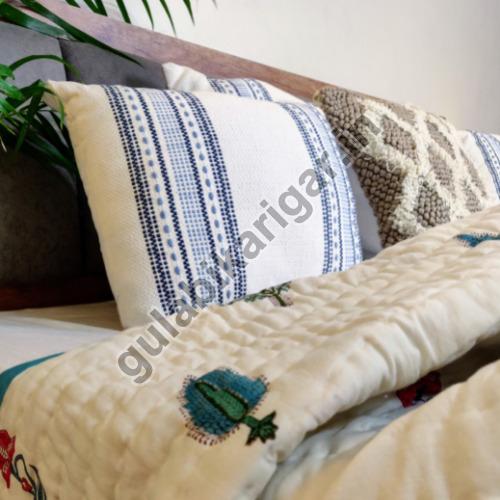 Sleeping well is a crucial factor that needs to be considered while maintaining a healthy lifestyle. And a good pillow is an essential tool to get a good sleep at the night. It provides your head and neck with great support while sleeping. If your pillow is not of the right type, there are chances of waking up with soreness or stiffness in the back. You can even develop long-term posture problems due to the use of a faulty pillow. Purchasing a good pillow with the right stuffing is always great for your sound sleep making you comfortable and cozy.
Though there are countless numbers of pillows available in the market, fiber-filled pillows are an excellent option providing great comfort to everyone. These pillows are high-quality pillows that are supportive and are designed to imitate down pillows. Or you can say they are synthetic alternatives to down pillows. They offer a more reasonable hypoallergenic option while providing loftiness, cushiness, and softness.
Fiber-filled pillows are extremely comfortable, flexible and provide equal support levels across the whole pillow area. As these pillows do not retain as much heat, they remain cooler than memory foam pillows. They generally, do not contour to your body like memory foam pillows and even provide more support as compared to other pillow types. Let's take a look at the types of fiber-filled pillows available in the market:
Gel Fiber Filled Pillows:
Your head should be in a perfect position while sleeping to have a good sleep at night. Improper head position may lead to neck cricks, backache, and more. If you want to have a relaxed and pleasant sleep then a proper pillow mount is very necessary. Gel fiber-filled pillow is one of the ideal choices these days. These pillows are made to feel just like down pillows. These breathable pillows are fluffy while offering great support and firmness to your head and body. A gel fiber-filled pillow does not have any gel or fluid filled in it. Actually, it is stuffed with polyester gel fibers. You can easily mold or compress a gel fiber-filled pillow whenever you require it. These pillows are lightweight and hypoallergenic in nature. These can also be washed and dried easily in a washing machine.
Synthetic Polyester Fiber Filled Pillows:
These pillows are lightweight and are easy to clean. They can also be maintained easily. Despite having many advantages, Synthetic polyester fiber-filled pillows are not very breathable which makes these fill warm. They can absorb and retain your body heat. Furthermore, synthetic polyester fibers tend to clump which can lead to flat & lumpy pillows.
Synthetic Cluster Fiber Filled Pillows:
These puffy and lofty pillows consist of clusters of synthetic fiberfill. High-quality synthetic cluster fibers fill in the pillows tend to hold their form well, just like down pillows. They are also antimicrobial, so they can prevent the growth of bacteria, making the pillows hypoallergenic and an ideal choice for people with asthma or allergies.
Micro Fiber Filled Pillows:
Micro fiber-filled pillows are lightweight and soft. The high-quality microfiber filling creates a thick surface that is airy and plump. A microfiber-filled pillow is a great option if you are looking for a pillow that is not too hard and too soft. These pillows are firm to provide good support and also prevent neck and head pain caused by sleeping on a faulty pillow.
If you are looking for premium quality fiber-filled pillows for your home, you can rely on one of the reputed fiber filled pillow suppliers and manufacturers in your city. The offered fiber-filled pillows are available with luxurious designs and innovative features. Along with top-quality products, you can also get excellent customer service and great deals on the price with a reliable fiber-filled pillow supplier.