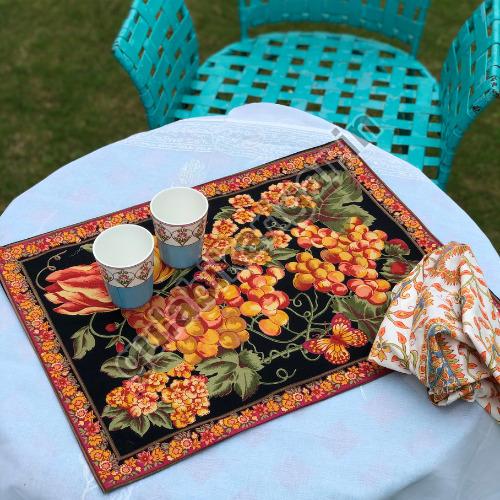 Most people buy table mats just as a part of the tableware to protect the table linen from the ill effects of dropped or spilt food. While this is the primary purpose of any Table Mat, there are other and more valuable functions it can perform. In fact, middle-class families use them more as decorative objects than ordinary one. Even here, the material used by Table Mats Supplier India is intended to reflect the restaurant's status and, in turn, the class of its clientele.
Many types of mats are available for table decorating such as the wipe-clean variety. Still, they are referred to as laminated and cork-backed for heavy-duty use and easy care. They are helpful, beautiful, and designed to last for years. Maintaining elegance and functionality are the hallmarks of the versatile placemat, and modern technology has encouraged its perfection. Many are even made slightly more comprehensive than others to easily accommodate silverware.
Does a table need table mats?
The furniture material is as essential as other aspects of why your dining table needs table mats, as your primary reason to use them is to protect the furniture. Always ensure the table mat you choose from Table Mats Supplier India doesn't end up becoming the reason behind the damage to your furniture.
Here are the top 5 reasons how table mats improve your life:
1) They protect your table's surface
2) They decorate and add aesthetics
3) They are convenient and green conscious
4) They provide amazing feel in the environment
5) They increase sanitation and noise reduction
How essential is it to use tablemats?

It's a fact that tablecloths also conform to this same function, but table mats are more modern and simple way to clean and keep fresh. Table mats are also much more versatile than a full table covering and can be put onto any surface you are eating a meal on. With table mats, it's super easy to change the look or design at a very reasonable cost. There are many reasons to use table mats; the list is endless!
Table mats Are Convenient and eco-friendly
Table mats are also very convenient to keep your table clean and avoid endless wash cycles of table cloths. When you buy PP plastic tablemats, clean them with a damp cloth, which can be used repeatedly. They will have a longer life but pitch them in the recycle bin to deliver them a new life as a new product when you get bored of them. Table mats also reduce the noise and clatter associated with glass, ceramics and metal cutlery in direct contact with table and counter surfaces.
Where to get customised and high-quality table mats ?
Get them online from a leading Wholesale Table Mats Supplier in India. They assure the quality you expect for your home. The material used is of premium grade, and they check its usefulness on industrial parameters. It is available in wider sizes and colours as well. You can even ask for customised designs or prints for commercial purposes.